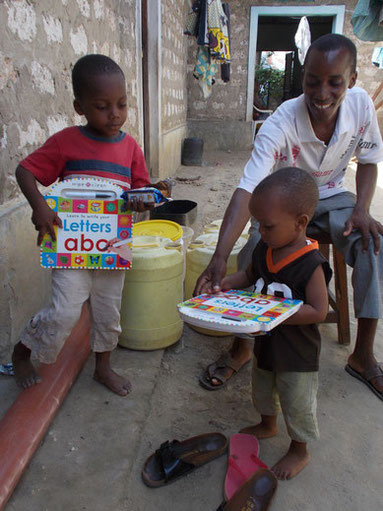 3 weeks...
packed full of new impressions and experiences I landed safely in Germany again.
From the previous reports it is indeed arose already, that it was an emotional, moving and touching time for me.
Everywhere I was welcomed with so much hospitality and love that I have always felt at home. The more difficult it is, of course, to say goodbye.
Some of my To Do list has been processed. The search for the location for the new home was successful. The mayor of this community will do everything so that we will find a plot according to our specifications and be able to begin soon.
THANKS to Amazon CGN1 Koblenz......
Thanks to the site manager Bryan Gregory and his deputy Nikolai Lisac to support Home of Smile.
This time I could take almost two suitcases full of children's books and educational books in English, as well as lots of toys and CDs to Kenya. I have taken the donation to Mombasa. The children there were very happy. It was overwhelming to see how happy they are. A big thank you also on behalf of children.
The next actions are being planned, and it will be reported here. If someone of you wants to make an action in favor of Home of Smile, you are mor than welcome to. Simply write to us.

In this sense, God bless you