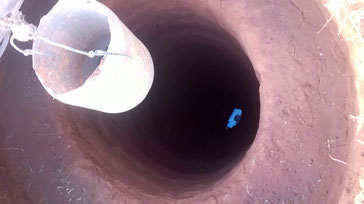 Yesterday was a successful day...

After a drought fertile comes back again...
Yesterday morning I was shopping with Sven paint and other things. It was just unbelievable. Where else are huge queues, with Sven by my side everything was free. We were back in a record time of 4 hours and managed everything. Sven has a very special aura. I already told him that he needs to join all our meetings and errands.
Back at the construction site, we discovered the Ceiling troop while working, just like the tiler. Also the well driller was at his work. Wow!
Sven was very pleased with the colors and the "wall car filler" we had purchased and he could return to his work. The result is simply awesome. Unfortunately, you can not see that on the pictures as well as it really is. In any case, it looks amazing and now I can imagine how good it will look when everything is finished.
The tilers have also made progress in the bathroom.

The one ceiling in the entrance area as well as in the office are finished. While digging the well we found water. However, a rock is now in the way. Hopefully he is not so big and he can remove him with hammer and chisel.
At the end of this successful day, Siggi and I have actually been able to drink 2 bottles of cold Tusker per Pikki Pikki delivery service.
It was a good day in Kenya on the construction site near Ugweri of Home of Smile...