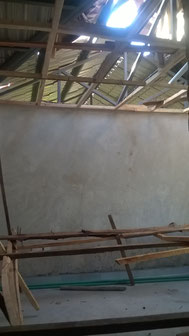 Reliance..., to be left....

The only one to rely on is the team from Germany, Siggi and Sven, and the 4 Kenyan plasterers and, of course, the sun. Siggi diligently paints the doors no matter whether standing, lying, sitting or kneeling. Thank you Siggi for your assignment, which is the remote from your usual or normal work in Germany. Sven prepares the walls for painting. Sven always tries to deliver German quality work, but this often fails due to the lack of materials. I can feel with him how it feels when the work you do does not meet your expectations. Then he will sometimes curse in Swabian... Sven has already prepared one side, which means 2 rooms and the hall, ready to paint.

Sven, a super fat compliment for your tireless assignment here on site.

The four Kenyans also make a TOP JOB. They work quietly, and I hardly need to look after them. It makes fun working with the guys.
The others do not appear. The plumber is not there the second day, just like the ceiling troop. The tilers had to take a 3-day break because the plumber did not move forward.
We hired another well driller. He has previously found the water vein with the dowsing rod and is now digging a fountain about 12 m deep with his hand. It is then our last hope to get water. The last time we got water from the pipeline was on 15th of December.
At the moment there comes one challenge after another...
Both bathrooms are still building site. The roof is not finished yet too, the kitchen is still a construction site and so on...
At least the weather is wonderful here and nice warm...