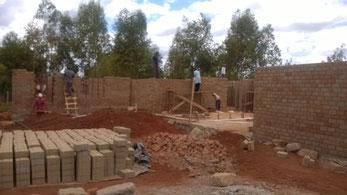 And on it goes....

After I got a pciture of the current status on Tuesday afternoon, I had to create a plan in the evening on how we can meet our schedule. On Wednesday morning I first slept in, we still were at the building lot at 8 am. We had on the program to optimize the work of the last week. This was followed by meetings and discussions with the foremen to then get activly going. Today they continued working on the ring beam. Tomorrow the remaining work on the ring beam will be done, so that we can pour concrete on Saturday. In the meantime, we had to go to some important offices to find out what we should do next, so that we get no complications with the authorities. Here we had a huge support by Mr James Karuku. He is the County Director of Ministry of Housing. Despite his busy schedule, he made appointments with the other authorities for us and personally drove us to the offices to introduce us.

Many thanks to James Karuku and his entire team. Everyone is very committed, whether in the office or at the construction site...
Then I even checked the offer for the electrical work and awarded. I obtained an offer for a septic tank and so on....
Let's see how it goes on.... We still have a lot of work to do....