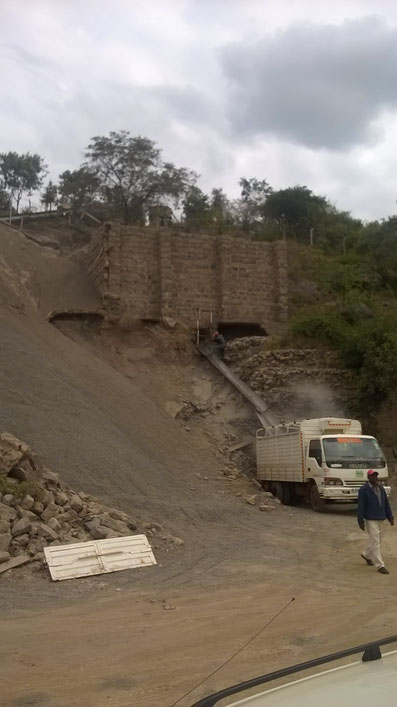 It goes on again...

after I was busy all Sunday from early morning until late at night with numbers and Excel lists, it went back on Monday to the construction site. Monday and Tuesday were real challenges to my patience and serenity. As I am practicing with positiv criticism, I say it like this. Many people wanted to know how far you can go with a Muzungu. Whether it's the truck driver who had promised to bring two loads of sand on Friday already, whether it's the truck driver who was to bring the gravel / ballast, whether it's the owner of the stone quarry pit who first told me the price for a ton and then collected the money for cubic meters and so on. There led one to the other and I was just about to cry as I then asked myself, I admit it was meant a little sarcastically: What will this gift learn me.... I'm still practicing on. The fact is, I can not change anyhting, to get upset makes me even more powerless, so I have to come down and cool down. Yes, on those days you want to give up everything ... no, do not worry, I'm not giving up. So I sit down and think about how the solution can look like. It took me two days, Monday and Tuesday, but today after even a clarifying conversation, we will go full speed ahead again. Today, we have rented a concrete mixer so that we could concrete the base plate and the foundation. We made it. The men and women have done a great job. Hats off, really great... Thanks to all helpers today....
The concrete will be watered tomorrow and the materia will be provided which has not been delivered this morning :).
All in all very informative days and I am thankful for...