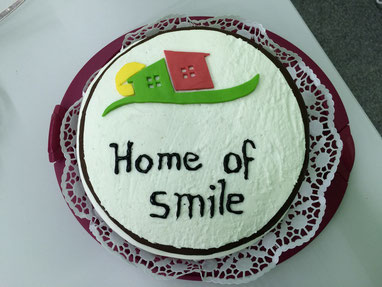 a great success again...
our bake sale at Alphatecc in Simmern on Saturday was a great success again.
On the left picture you see the new future logo of Home of Smile.
Sandra, my dear colleague, has completely surprised me with this wonderful cake with our new logo.
Many nice people around me have helped with their cake donations, so we could come up with a large mix of cakes.
We have sold diligently again and people have donated diligently. We earned 338,00 Euro.
Thanks to all of you.
Special thanks to all who have donated cakes, to my dear colleague Gabi, who came from Neuwied to help us, to my family, to Mario Schmitz the store manager and the whole team of Alphatecc