4th November 2014, Amazon Logistic-Team
Achim Fuchs tries to give a new home to 12 girls and 11 boys aged 7 – 16 years with the registered association "Home of Smile".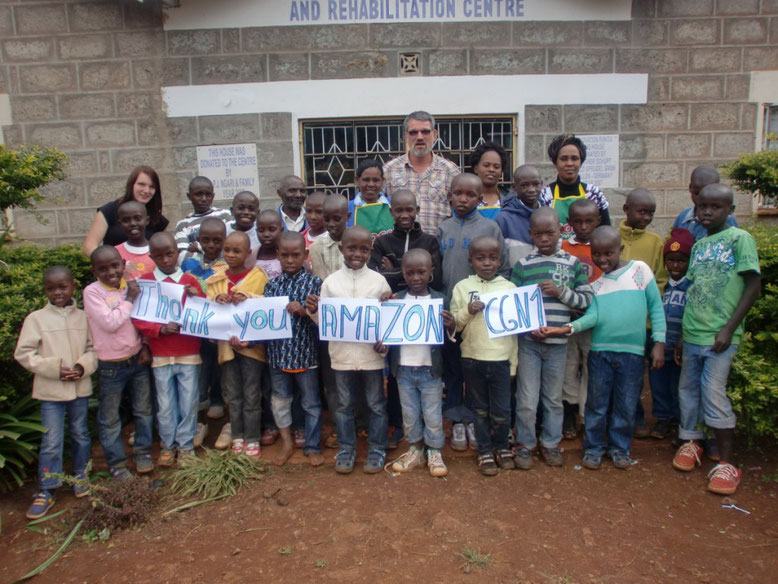 Achim Fuchs has a mission in which it comes to the aid of orphans in Kenya. With "Home of Smile", a charitable initiative, he wants to create a home with security for 25 children. Support for his project receives the 56-year-old team leader and work council with Amazon in Koblenz by his employer, colleagues, friends and family.
By sponsoring a 12-year-old orphan in Kenya his second life began for Achim Fuchs in early 2013, in which he advocates for children who have no parents and had to live on the street. In real life work Achim Fuchs is a team leader in the storage of goods and member of the works council at Amazon in Koblenz. "I was there from the beginning, as Amazon started 2012 in Koblenz," he says. After about 40 years in the profession, including retail and foreign trade or as a bus driver, he wanted to start over again in an international company like Amazon: "However, the commitment for others was important to me too," says the 56-year-old. From the beginning he had been involved in the employee forum, later he applied for the works council.
Achim Fuchs decided to get involved private also. He didn't want to leave the pure financial support for a sponsorship, Therefore Achim flew to Kenya to visit his new goddaughter in the orphanage and to make a first-hand picture. Included in the luggage: four large suitcases full of donations. "The conditions were unbelievable. As bad as I would have never imagined," Achim remembers with horror. "Broken beds, no electricity. There was a lack of everything, even a way to transport a child to the nearest hospital was missing!" This is no life for the 23 children, many of them who lost their parents because of AIDS, but merely survival. "Protection, love or security of a home: all these children had never experienced," Achim summarizes.
The misery of the children prompted Achim few months later for another visit, to assist in the expansion of the orphanage. "You cannot imagine how they built things over there," he says. "Without a drill or other tools, but everything by hand and with an incredible creativity" Deep shaped by the experiences Achim went back to Germany in order to launch the project "Home of Smile" and to raise money for a home for about 25 children. Children who had to expect a life on the street without parents and formal education, care and comfort. "For me the immediate and personal help has to do with the respect for the people who live there," Achim indicates as the main reason for his initiative. He did not delegate to others the responsibility: "The immediate assistance is always best."
At the end of august he had therefore organized his own charity run and raised money to sponsor his 800 km long pilgrimage on the Camino de Santiago. This was followed by actions such as a returnable action among colleagues of the Amazon distribution center. About 3,000 returnable bottles were collected: "A colleague had the pledge to pack the money in lovely small bags. In the presence of our plant manager Bryan Gregory the money was handed to me together with a cake with the logo of Home of Smile. That was very nice", Achim remembers. Amazon Koblenz also donated itself: "The support of our plant manager Gregory was just great. We advertised with posters for Home of Smile. I also get the chance to present the project at our company meeting." Meanwhile our team includes some Amazon employees, which support actively the action of Achim.
"I'm very grateful that Home of Smile has found so many supporters," said Achim. He had already come closer to his goal to build an orphanage for these children. "But there are still more donations needed," he says and is confident that he will succeed.
You find more information about Home of Smile and opportunities to donate on this website.
Source: www.amazon-logistikblog.de