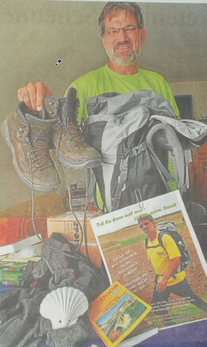 26th September 2014, Rhein-Zeitung, Page 23/Local
Charity.
Achim Fuchs wants to give a secure home to 25 children.
It all began with the takeover of a sponsorship for Jane, an orphan in Kenya who came down with AIDS, Achim Fuchs from Beltheim had taken over. That was in January 2013. Two trips to support charitable projects in the near from the Kenyan capital Nairobi have impressed Achim Fuchs so much that he decided to start his own association and build an orphanage in Kenya.
To explore strategies to achieve his ambitious project, to force concrete plans, to find his own ego and ultimately to collect donations, the 56-year-old set out for an 800-kilometer march at the end of August on the Spanish Camino de Compostela from the Pyrenees to Santiago de Compostela.
The commitment from Achim Fuchs for Africa began two years ago. After he had informed intensively with the fate of AIDS orphans in Kenya, Fuchs wanted to do more than only withdraw 30 Euros per month. In July 2013 he flew to Kenya with his daughter Céline to make themselves a picture of the situation there. Four suitcases full of donations, the two had in their luggage.
The warmth of the people and the terrible living conditions of many children provoked Fuchs in December 2013 to fly again to Kenya for two months. As a mason, plumber and tiler he participated in the construction of a children's home. 12 girls and 11 boys aged between 7 to 16 years should find a new home there. Achim Fuchs could here experience at first-hand how important it is for the children to grow in sheltered and ordered structures, to experience love, security and protection.
Deeply influenced by all the impressions and experiences Fuchs decided after his return to involve more. The team leader and works council at amazon in Koblenz spoke with his family, neighbors, colleagues and friends and met with general approval.
It was followed by the creation of the registered association "Home of Smile". The focus of his work is the support of impoverished children, children living on the street or living in terrible conditions whose parents have died of diseases such as malaria, tuberculosis and AIDS. Often these orphans are completely on their own, forgotten by the society, let alone, exploited like slaves and abused.
"Home of Smile", a non-profit organization, will give 25 children a home where they are loved, experience security and protection. They should receive an education, be promoted according their talents and skills and receive a precondition to live independent lives as adults after training or education.
To pursue these goals donors and sponsors are needed. Achim Fuchs turned the Camino de Compostela into a charity run. He wants to draw the attention of all the foreign pilgrims to his project. Following the example of a charity run he is looking for sponsors who pay him for every kilometer he makes 5 euros. Of course the money will completely go into the large pot of "Home of Smile". In early October Fuchs will have reached Santiago de Compostela. But this is just a stage. Until the orphanage in Kenya is finished, it is still a long way.
Source    Rhein-Zeitung 26th September 2014, Page 23 Ressort    Local
Documentnumber    FEB05EE8958635DCE1F7B16C8A112280-COCHEM