October 30th

A man from Beltheim rolled up his life and supports now orphans in Kenya.
 
Actually, it was only supposed to be a sponsorship for a child in Africa. But Hans-Joachim Fuchs from Beltheim wanted to know more about the circumstances of his sponsored child and visited it in Kenya.
Well soon the second visit will come – hopefully with many donations in his luggage.

BELTHEIM. Have nothing to do with other people's children: That was the thought of Hans-Joachim Fuchs a few years ago. But then it all turned out quite differently: After the divorce from his wife, he rolled up his life and wanted to help others. In January 2011 he discovered a newspaper ad, the organization "Orphan's Hope & Life". He donated money to this organization and finally took over the sponsorship of the eleven-year old Jane in January 2013. She is an AIDS orphan and lives in "Josephine Wambui Orphanage" in Kimweas, a small village at the foot of Mount Kenya.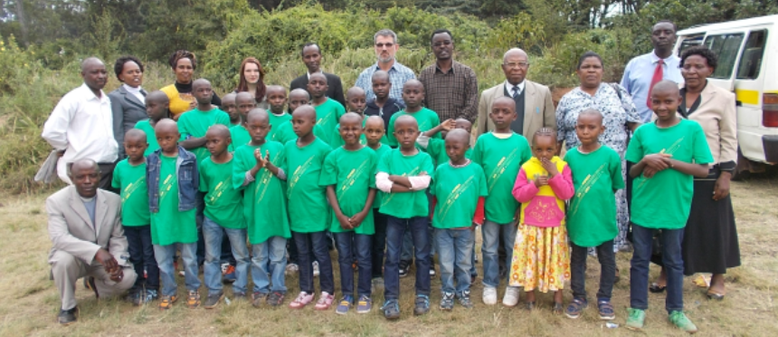 But that's not enough: The man from Beltheim had become curios through the contact with Jane about her home. "I wanted to experience it myself and wanted to see under which conditions the children live there", Fuchs said. So he went to the heart of Kenya in the summer with his 17-year-old daughter Céline. Included in the luggage he had presents for the children and donations he had collected not only in his hometown but also in companies and his employer.

Fuchs had never been to Africa before and didn't know what's coming. The children, who initially were a bit shy, captured the hearts by storm.

In the orphanage currently live 23 children, supervised by seven adults. Most of the children are AIDS orphans, some are themselves infected with HIV. The home is self-sufficient through some farming and animals. "Everyone who comes through the door gets something to eat," says Achim Fuchs. "We thought we'd bring something to them, but we have gotten so much back."

The children are well-housed, but it fails on another sleeping room and modern sanitary facilities in the home built in 2010. "In such homes no one would like to live," Fuchs says. When he returned to Germany it was very difficult for him to acclimate again: "The problems here got really small and the first eight days I wanted to go back the most."

But soon it's time again: Fuchs travels to Kenya again at the beginning of December, but this time the trip will take almost two months. He has taken unpaid leave. He will organize the construction of the new sleeping rooms and toilets on site. For this Achim Fuchs has been collecting donations again. "The building costs approximately 10,000 Euros," he says. The money will advance the organization, but more donations are needed.